The Roaring 20's Eyeshadow Palette - Carefree

Sale
Type: Eyeshadow Palettes
Sku: 88004
Rude is taking you back in time to the days of rebellious glamour! Join the fun, cut a rug, and jazz up your eyes in these festive shimmers and smooth, pigmented mattes! Get ready to make an unforgettable entrance. It'll be the talk of the decade.
NET WT:  1.06 oz / 30 g
Ingredients
BEE'S KNEES: TALC, MICA, TRIETHOXYCAPRYLYLSILANE, SILICA, ETHYLHEXYL PALMITATE, MAGNESIUM STEARATE, POLYISOBUTENE, BIS-DIGLYCERYL POLYACYLADIPATE-2, TRIDECYL TRIMELLITATE, DIMETHICONE, PHENOXYETHANOL, TOCOPHERYL ACETATE, ETHYLHEXYLGLYCERIN, TITANIUM DIOXIDE, IRON OXIDES YELLOW, RED 6, IRON OXIDES BLACK.
JITTERBUG:  TALC, MICA, SYNTHETIC FLUORPHLOGOPITE, TRIETHOXYCAPRYLYLSILANE, SILICA, ETHYLHEXYL PALMITATE, MAGNESIUM STEARATE, POLYISOBUTENE, BIS-DIGLYCERYL POLYACYLADIPATE-2, TRIDECYL TRIMELLITATE, DIMETHICONE, PHENOXYETHANOL, TOCOPHERYL ACETATE, ETHYLHEXYLGLYCERIN, IRON OXIDES RED, IRON OXIDES BLACK, TITANIUM DIOXIDE, Red 7 Ca Lake

SPEAKEASY: MICA, TALC, CALCIUM SODIUM BOROSILICATE, CAPRYLIC/CAPRIC TRIGLYCERIDE, ETHYLHEXYL PALMITATE, POLYISOBUTENE, BIS-DIGLYCERYL POLYACYLADIPATE-2, TRIDECYL TRIMELLITATE, DIMETHICONE, MAGNESIUM STEARATE, TITANIUM DIOXIDE, DIMETHICONE/VINYL DIMETHICONE CROSSPOLYMER, CYCLOPENTASILOXANE, PHENOXYETHANOL, TIN OXIDE, TOCOPHERYL ACETATE, ETHYLHEXYLGLYCERIN, SYNTHETIC FLUORPHLOGOPITE, IRON OXIDES RED, IRON OXIDES YELLOW

AND HOW!: TALC, MICA, TRIETHOXYCAPRYLYLSILANE, SILICA, ETHYLHEXYL PALMITATE, MAGNESIUM STEARATE, POLYISOBUTENE, BIS-DIGLYCERYL POLYACYLADIPATE-2, TRIDECYL TRIMELLITATE, DIMETHICONE, PHENOXYETHANOL, TOCOPHERYL ACETATE, ETHYLHEXYLGLYCERIN, IRON OXIDES YELLOW, IRON OXIDES RED, IRON OXIDES BLACK, TITANIUM DIOXIDE, Red 7 Ca Lake

PACKARD: TALC, MICA, TRIETHOXYCAPRYLYLSILANE, SILICA, ETHYLHEXYL PALMITATE, POLYISOBUTENE, MAGNESIUM STEARATE, BIS-DIGLYCERYL POLYACYLADIPATE-2, TRIDECYL TRIMELLITATE, DIMETHICONE, PHENOXYETHANOL, TOCOPHERYL ACETATE, ETHYLHEXYLGLYCERIN, TITANIUM DIOXIDE, IRON OXIDES YELLOW, IRON OXIDES RED, IRON OXIDES BLACK, Red 6 Ba Lake

BOOTLEG: TALC, MICA, TRIETHOXYCAPRYLYLSILANE, SILICA, ETHYLHEXYL PALMITATE, MAGNESIUM STEARATE, POLYISOBUTENE, BIS-DIGLYCERYL POLYACYLADIPATE-2, TRIDECYL TRIMELLITATE, DIMETHICONE, PHENOXYETHANOL, TOCOPHERYL ACETATE, ETHYLHEXYLGLYCERIN, Red 6 Ba Lake, TITANIUM DIOXIDE, IRON OXIDES YELLOW, Yellow 5 , IRON OXIDES RED, RED 6

DADDY-O: TALC, MICA, TRIETHOXYCAPRYLYLSILANE, SILICA, ETHYLHEXYL PALMITATE, POLYISOBUTENE, MAGNESIUM STEARATE, BIS-DIGLYCERYL POLYACYLADIPATE-2, TRIDECYL TRIMELLITATE, DIMETHICONE, PHENOXYETHANOL, TOCOPHERYL ACETATE, ETHYLHEXYLGLYCERIN, TITANIUM DIOXIDE, IRON OXIDES BLACK, IRON OXIDES RED, IRON OXIDES YELLOW, Red 7 Ca Lake

ON THE LEVEL: TALC, MICA, TRIETHOXYCAPRYLYLSILANE, SILICA, ETHYLHEXYL PALMITATE, POLYISOBUTENE, MAGNESIUM STEARATE, BIS-DIGLYCERYL POLYACYLADIPATE-2, TRIDECYL TRIMELLITATE, DIMETHICONE, PHENOXYETHANOL, TOCOPHERYL ACETATE, ETHYLHEXYLGLYCERIN, TITANIUM DIOXIDE, IRON OXIDES BLACK, IRON OXIDES RED, Red 7 Ca Lake, IRON OXIDES YELLOW

LIVE WIRE: MICA, TALC, ETHYLHEXYL PALMITATE, POLYISOBUTENE, BIS-DIGLYCERYL POLYACYLADIPATE-2, TRIDECYL TRIMELLITATE, DIMETHICONE, MAGNESIUM STEARATE, PHENOXYETHANOL, TOCOPHERYL ACETATE, ETHYLHEXYLGLYCERIN, IRON OXIDES RED, IRON OXIDES YELLOW

DAME: TALC, MICA, TRIETHOXYCAPRYLYLSILANE, SILICA, ETHYLHEXYL PALMITATE, MAGNESIUM STEARATE, POLYISOBUTENE, BIS-DIGLYCERYL POLYACYLADIPATE-2, TRIDECYL TRIMELLITATE, DIMETHICONE, PHENOXYETHANOL, ETHYLHEXYLGLYCERIN, TITANIUM DIOXIDE, IRON OXIDES RED, Red 7 Ca Lake, IRON OXIDES BLACK, IRON OXIDES YELLOW

NICE GAMS: TALC, MICA, TRIETHOXYCAPRYLYLSILANE, SILICA, ETHYLHEXYL PALMITATE, SYNTHETIC FLUORPHLOGOPITE, MAGNESIUM STEARATE, POLYISOBUTENE, BIS-DIGLYCERYL POLYACYLADIPATE-2, TRIDECYL TRIMELLITATE, DIMETHICONE, PHENOXYETHANOL, TITANIUM DIOXIDE, TOCOPHERYL ACETATE, ETHYLHEXYLGLYCERIN, IRON OXIDES BLACK, TITANIUM DIOXIDE, Red 7 Ca Lake, IRON OXIDES RED, Red 27

SO KEEN: TALC, MICA, TRIETHOXYCAPRYLYLSILANE, SILICA, ETHYLHEXYL PALMITATE, MAGNESIUM STEARATE, POLYISOBUTENE, BIS-DIGLYCERYL POLYACYLADIPATE-2, TRIDECYL TRIMELLITATE, DIMETHICONE, PHENOXYETHANOL, TOCOPHERYL ACETATE, ETHYLHEXYLGLYCERIN, TITANIUM DIOXIDE, IRON OXIDES YELLOW, IRON OXIDES RED, RED 6

SHNOOKUMS: TALC, MICA, SYNTHETIC FLUORPHLOGOPITE, ETHYLHEXYL PALMITATE, TITANIUM DIOXIDE, POLYISOBUTENE, BIS-DIGLYCERYL POLYACYLADIPATE-2, TRIDECYL TRIMELLITATE, DIMETHICONE, MAGNESIUM STEARATE, PHENOXYETHANOL, TOCOPHERYL ACETATE, ETHYLHEXYLGLYCERIN, TIN OXIDE, TITANIUM DIOXIDE

YOU SLAY ME: TALC, MICA, TRIETHOXYCAPRYLYLSILANE, SILICA, ETHYLHEXYL PALMITATE, MAGNESIUM STEARATE, POLYISOBUTENE, BIS-DIGLYCERYL POLYACYLADIPATE-2, TRIDECYL TRIMELLITATE, DIMETHICONE, PHENOXYETHANOL, TOCOPHERYL ACETATE, ETHYLHEXYLGLYCERIN, TITANIUM DIOXIDE, IRON OXIDES YELLOW, IRON OXIDES RED, RED 6

DAPPER: TALC, MICA, TRIETHOXYCAPRYLYLSILANE, SILICA, ETHYLHEXYL PALMITATE, SYNTHETIC FLUORPHLOGOPITE, MAGNESIUM STEARATE, POLYISOBUTENE, BIS-DIGLYCERYL POLYACYLADIPATE-2, TRIDECYL TRIMELLITATE, DIMETHICONE, PHENOXYETHANOL, TOCOPHERYL ACETATE, ETHYLHEXYLGLYCERIN, IRON OXIDES RED, IRON OXIDES BLACK, TITANIUM DIOXIDE, IRON OXIDES YELLOW, Red 6 Ba Lake

VAMP: MICA, TALC, SYNTHETIC FLUORPHLOGOPITE, ETHYLHEXYL PALMITATE, POLYISOBUTENE, BIS-DIGLYCERYL POLYACYLADIPATE-2, TRIDECYL TRIMELLITATE, DIMETHICONE, MAGNESIUM STEARATE, PHENOXYETHANOL, TRIETHOXYCAPRYLYLSILANE, TOCOPHERYL ACETATE, ETHYLHEXYLGLYCERIN, IRON OXIDES YELLOW, IRON OXIDES RED

CAT'S MEOW/SWELL/NIFTY: MICA, TALC, SYNTHETIC FLUORPHLOGOPITE, ETHYLHEXYL PALMITATE, BIS-DIGLYCERYL POLYACYLADIPATE-2, TRIDECYL TRIMELLITATE, DIMETHICONE, POLYISOBUTENE, MAGNESIUM STEARATE, PHENOXYETHANOL, TITANIUM DIOXIDE, TRIETHOXYCAPRYLYLSILANE, TOCOPHERYL ACETATE, ETHYLHEXYLGLYCERIN, IRON OXIDES, IRON OXIDES YELLOW

HOOCH: MICA, TALC, TITANIUM DIOXIDE, SYNTHETIC FLUORPHLOGOPITE, ETHYLHEXYL PALMITATE, CALCIUM SODIUM BOROSILICATE, POLYISOBUTENE, QUARTZ, BIS-DIGLYCERYL POLYACYLADIPATE-2, TRIDECYL TRIMELLITATE, DIMETHICONE, MAGNESIUM STEARATE, PHENOXYETHANOL, TOCOPHERYL ACETATE, ETHYLHEXYLGLYCERIN, TIN OXIDE, IRON OXIDES YELLOW, IRON OXIDES RED, IRON OXIDES BLACK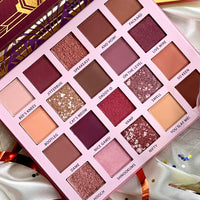 The Roaring 20's Eyeshadow Palette - Carefree
$20.25